Introduction
Introduction
We are two brothers, three sisters and a brother in law who enjoy making music together.
Our familyname is in 't Veld and we have grown up in the Flevopolder, The Netherlands.
We have been making music since we were very young and we started off with classical music.
After a trip to the United States, we replaced our classical music by the real American country music: Bluegrass.

We started practising on different kinds of instruments like banjo, mandoline, fiddle, double-bass, guitar and dobro.
When in 1997 we were, coincidentally, on a camp-vacation together, we noticed how others enjoyed our music. Ever since, we have been playing more often with eachother for audiences and we have got an amusing repertoire of gospelsongs and instrumentals.
We perform throughout the Netherlands every once in a while.
We've also toured abroad; United States, Ireland, Britain, Germany, Scotland and the Ukraine.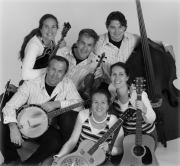 You can contact us through this website.
We would be happy to provide you with some more information about us.

Hopefully you'll hear us and we'll see you soon!

The IntVeld Family